We offer a tailored service to those who want to give to local charities in their local community, whether private individuals, families, companies or grant-makers.
Some people already have causes they feel passionately about; others want to help wherever the need is greatest. Whatever your starting point, our job at KCF is to ensure that your giving has a big impact where it is needed most.
Your giving options:
Establish your own fund

Leave a gift in your will
Donate your shares
Give through our Themed Funds

Donate online now
Why work with Kent Community Foundation?
We make giving easy and fun! We identify the causes you are interested in and use our local expertise and network of contacts to put you in touch with fantastic local charities. Thanks to our research into the needs of the county and relationships with charities and community groups across Kent and Medway, we can often find wonderful grassroots projects, operating below the radar, where a modest sum of money can make a huge difference.
We review, monitor and evaluate diligently on your behalf so you can have full confidence in our grant-making.
Gift Aid your donation
Gift Aid is a tax relief allowing UK charities to reclaim an extra 25% in tax on every eligible donation made by a UK taxpayer. So for every £1 donation Kent Community Foundation can claim back 25p.
What do you have to do?
Confirm whether or not you are a UK taxpayer. Please note that Gift Aid can only be reclaimed on donations made by individuals who pay UK income or capital gains tax at a rate at least equal to the amount reclaimed on their donations in the current tax year.
Download, fill in and send us the Gift Aid Declaration Form.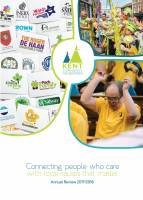 Annual Review
Uploaded December 2018
Download
What's great about Kent Community Foundation is that it ensures that we are helping genuine cases of need. The team has put us in touch with causes that we would never have come across because there is such a wide range of needs that exists in our community. We have been able to help so many children and families whose brave and inspiring stories couldn't fail to move you. It is incredibly rewarding for us to see first-hand the impact of our giving. It makes us realise how fortunate we are and what a great privilege it is to be able to reach out to help others in this way.

Paul Rooney, The Rooney Foundation
Village halls are so important to communities, helping people to stay connected and stay well.
https://t.co/v4La1ve7WL