Are you thinking about your Corporate Social Responsibility?
No matter what size of company you are or how much you wish to donate, through your corporate giving you have the opportunity to make a real difference to local communities in Kent and Medway.
A growing number of Kent-based businesses are looking to support their local communities by enhancing their current corporate social responsibility programme or by establishing a new strategy.
Many companies do not have the resource or time to handle charitable requests – Kent Community Foundation will provide the support and advice needed to create a simple, flexible and tangible way of making a real difference.
We have options to suit every type and size of business:
There are so many wonderful organisations out there doing incredible work for the people of your local communities. By investing in them, you can reach new audiences, enhance business relationships and build loyalty with your employees and stakeholders by supporting causes that matter to them. Kent Community Foundation knows where these organisations are and we know how to access them. In addition, you can see the impact of your donation first hand. You can be confident in knowing where your money has been distributed and who has benefited.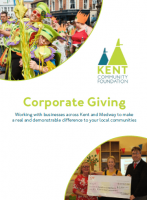 Corporate Giving Brochure 2019
Uploaded May 2019
Download
Gatwick is proud to be partnering with the Community Foundations for Sussex, Surrey and Kent to launch the Gatwick Foundation Fund in support of important community and voluntary projects across the region. Each organisation has detailed knowledge and understanding of the community needs across their respective counties and this invaluable experience will help to ensure grants are focused where they can make the most difference.

Stewart Wingate, CEO Gatwick Airport
@CarersStepOut
Great to hear. We're so pleased to be able to support many fantastic organisations across the county.