Are you thinking about your Corporate Social Responsibility? No matter what size of company you are or how much you wish to donate, through your corporate giving you have the opportunity to make a real difference to local communities in Kent and Medway.
It's really important to people to feel confident in their giving especially when there is so much controversy about the sector and we can give you that confidence. We ensure you know where your money has been distributed and who has benefited.

There are so many wonderful organisations out there doing incredible work for the people of your local communities. By investing in them, you can reach new audiences, enhance business relationships and build loyalty with your employees and stakeholders by supporting causes that matter to them. Kent Community Foundation knows where these organisations are and we know how to access them. In addition, you can see the impact of your donation first hand.
Four ways in which you can become involved with the Foundation:
Make a donation to our Themed Programmes, which can be a minimum of £1,000 per annum. These programmes allow us to ensure that the money is going to where the need is greatest in our county. Our four Themed Programmes are: Children, Young People and Families, Elderly and Isolated, Vulnerable Adults and Employability, Skills and Enterprise.

Set up a Named Fund where, for an annual donation of £25,000 or more, you get to set the criteria for your fund and make decisions about where the money goes.

Donate your skills and experience. We work hard to support the charitable sector and by creating a directory of pro-bono support, we can connect you with organisations who could utilise your skills.

If you are a professional advisor and your clients are looking for an alternative to setting up their own Trust and Foundation then a fund with Kent Community Foundation is an ideal way to do that. Referring your clients is a perfect way to support the Foundation and your local community.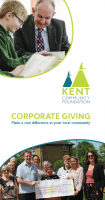 Corporate Giving Brochure
Uploaded September 2018
Download
Gatwick is proud to be partnering with the Community Foundations for Sussex, Surrey and Kent to launch the Gatwick Foundation Fund in support of important community and voluntary projects across the region. Each organisation has detailed knowledge and understanding of the community needs across their respective counties and this invaluable experience will help to ensure grants are focused where they can make the most difference.

Stewart Wingate, CEO Gatwick Airport
Do you work with children and young people? Join us at Lenham Community Centre on the 3rd July at 1.30pm to hear a…
https://t.co/KyAbFu9mcT