Kent Community Foundation work with solicitors, accountants, wealth managers and financial advisers to help their clients make the most of their giving.
As a professional adviser, you will have clients who care about and want to give something back to their community, but may not know where to start. Kent Community Foundation is the ideal vehicle for people who want to put something back into the communities in which they have lived and worked.
Research shows that wealthy people and businesses want to know more about effective charitable giving. Each change in your client's financial or family circumstances is an opportunity to talk about philanthropy. And there are many tax benefits to planned giving that your clients may wish to explore.
Tailor-made, cost-effective and time- saving solutions
We can work with you and your clients to help shape and develop a more structured approach to their charitable giving. We make it easier to give both locally and effectively by offering simple, cost-effective, and tax-efficient solutions. For example, if your client is considering establishing a charitable trust, we can offer a more convenient alternative in the form of a named fund.
From the client who wants to make an immediate philanthropic impact, to the couple hoping to leave a legacy, to the family who want to establish a memorial fund in honour of a loved one, we can help you find the best solution – tailor-made to ensure that the wishes of your client can be acted upon.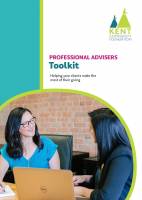 Professional Adviser Toolkit
Uploaded March 2023
Download