About Kent Community Foundation
Kent Community Foundation (KCF) is part of a national network of 46 Community Foundations committed to improving the lives of local people and communities, particularly the most vulnerable, isolated and disadvantaged.
KCF also helps generous individuals, families, organisations, trusts and foundations establish and administer their own charitable funds to support the causes that mean the most to them in Kent and Medway.
Established in May 2001, KCF has distributed over £35 million in grants and now provides financial support to hundreds of charities and deserving causes throughout the county each year – particularly small, local charities, where a modest sum of money can make a significant impact.
Our Mission
Our mission is to proactively create strong local communities by connecting those who want to help with those seeking help.
Our Vision
Our vision is to empower organisations and charities in our local communities of Kent and Medway who make a real and positive difference to people's lives.
Our Values
Excellence
We strive to achieve excellence in the delivery of our service by exceeding the expectations of both our donors and our grant recipients
Supportive
We go above and beyond to support the organisations that apply to us for funding by sharing our knowledge and expertise to help build a sustainable and confident voluntary sector across Kent and Medway
Integrity
We operate with integrity in everything we do. We are transparent in our processes and deliver what we promise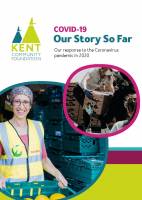 COVID-19 Report - Our Story So Far
Uploaded December 2020
Download
Key highlights from our 2019/20 financial year

We distributed over £3.2 million to organisations and individuals
We gave out 600 grants
63 organisations had a grant from KCF for the first time
See a list of the grants made to organisations during the year here
History of Kent Community Foundation
Simon macLachlan of Sissinghurst was Kent Community Foundation's first Chairman in 2001. He recalls early support from many quarters of Kent, following a report commissioned from Greenwich University about Community Needs in Kent, particularly child poverty. Grateful thanks must go to Charities Aid Foundation who generously helped KCF get started.
@CarersStepOut
Great to hear. We're so pleased to be able to support many fantastic organisations across the county.