The Lawson Trust Million Pound Endowment Match Challenge for the Environment.
How does it work?
The Lawson Trust Match Funding Challenge doubles your donation through Kent Community Foundation (KCF), with every £1 donated matched by another £1.
With an endowment fund, your donation is invested and the annual revenue generated then awarded to small charitable organisations in Kent and Medway. It's a fantastic way to provide long-term, more stable support for local communities.
This match funding partnership gives those with a passion and commitment to Kent and Medway the opportunity to support voluntary groups that are dedicated to enhancing, preserving, and protecting our local environment. Funding will benefit communities by enabling access to services that boost physical and mental wellbeing, and engage people in more sustainable practices for better social, economic and environmental future outcomes.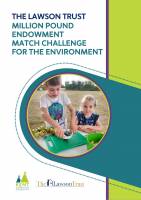 The Lawson Trust Million Pound Endowment Match Challenge for the Environment
Uploaded October 2023
Download
How much can I donate?
New donors: Minimum donation of £50,000 with no maximum but a £100,000 match cap.
Existing donors (KCF endowment fund-holders): Minimum top-up donation of £25,000 and a maximum of £50,000.
Who else is eligible?
Match funding is open to individuals, families, charitable trusts and foundations and businesses.

Can I donate shares?
Yes, gifts of publicly quoted shares, which attract tax relief, can be considered.
What else do I need to know?
Funding will be awarded to charitable organisations with environmentally-focused activities that benefit Kent and Medway communities.

Existing Kent Community Foundation flow-through fund-holders must create a new endowment fund to take advantage of match funding.
The Lawson Trust will match donations until they reach a total £1 million.
These are just some of the environmentally-focused charitable organisations and their projects which we have supported in the past.
What's great about Kent Community Foundation is that it ensures that we are helping genuine cases of need. The team has put us in touch with causes that we would never have come across because there is such a wide range of needs that exists in our community. We have been able to help so many children and families whose brave and inspiring stories couldn't fail to move you. It is incredibly rewarding for us to see first-hand the impact of our giving. It makes us realise how fortunate we are and what a great privilege it is to be able to reach out to help others in this way.

Paul Rooney, The Rooney Foundation
KCF got to know us, presented us with causes of all kinds which they knew would resonate with us, and made our giving much more effective and wide-reaching. I feel I have come to know the county much better through all the small, even tiny charities that we have been able to access through the funders' "dating agency" that is KCF.

Rosalind Riley, Co-Founder and Trustee of The Brook Trust
The Jessel family have enjoyed the challenge of choosing organisations to support. The information provided by KCF is extremely helpful especially when there are photographs of the groups – seeing the people who may directly benefit from your grant is really inspirational as you can imagine the work going on during the year.

We are looking forward to continuing our funding meetings – there is always a robust discussion and as our children grow and experience more of the outside world they are becoming more attuned to the needs of others; a really positive outcome from our journey in philanthropy

Vicki Jessel, The Hornbeam Charitable Fund
I was amazed by the effectiveness of the organisation; and by the professionalism and rigour with which each grant application is assessed and then, if successful, monitored. I was so impressed in fact, that my wife and I decided to establish a family fund with KCF. We did not have the time or knowledge to research and back individual charities but knew from first-hand experience that with KCF our money would be well spent.

People often assume that Kent is a wealthy county, but as the impact of the recent coronavirus pandemic has highlighted, it is also a county of disparities, with some areas and communities suffering great deprivation. More than any other organisation in Kent, KCF really is aware of these social needs, and how and where its funds will have the greatest impact.

Robert Sackville-West, Sackville Family Fund & KCF Trustee