KM Charity Team
Literacy for homeless people
Bookbinders is a competitive reading challenge to support, enthuse and inspire former homeless people to develop their reading skills.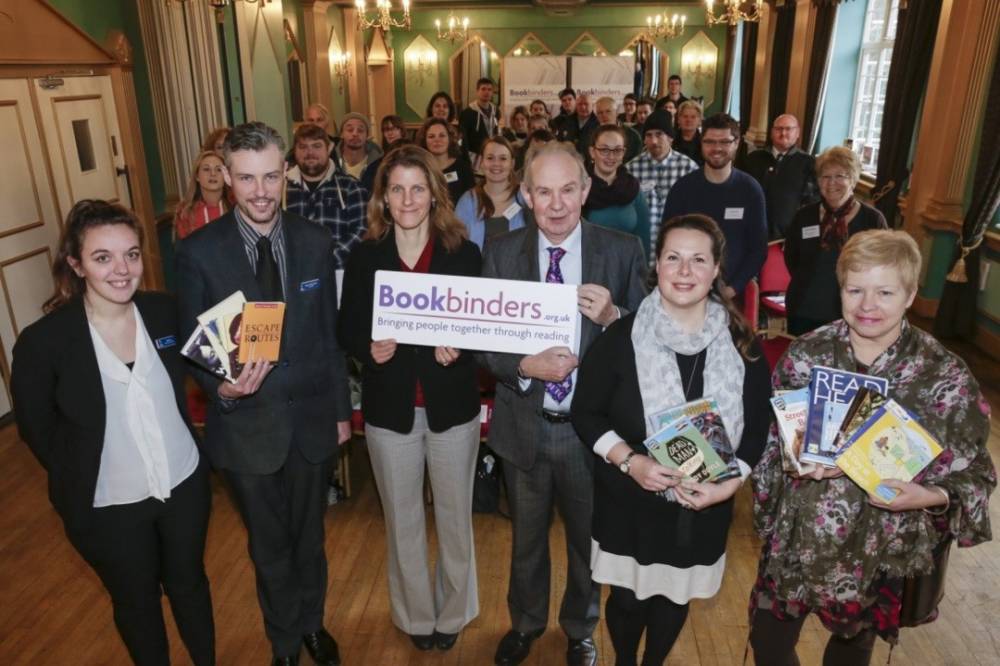 About Bookbinders project
Bookbinders is a competitive reading challenge to support, enthuse and inspire former homeless people to develop their reading skills. 84 per cent of homeless people have poor literacy skills and this is a major hurdle in them rebuilding their lives.
Initially, KM Charity Team had planned to be working solely Porchlight, a charity supporting former homeless people in Kent, to deliver the scheme to service users who have had poor experiences of school, leaving with few qualifications and low confidence in literacy skills. When other organisations showed an interest they decided they could widen out the scheme and by the end of the pilot year they also set up groups comprising of young people not in education, employment or training (NEETs), young refugees seeking asylum, people with mental health problems and older people who are isolated and looking to engage socially with others.
Results from the funding
Participants in the Bookbinders groups were adults and young people across Kent who have experienced issues such as poor mental health, homelessness, domestic abuse and substance misuse. Reading group leaders chose pieces of literature, stories, extracts and poetry to suit the groups need and reads aloud. This means anyone could get involved, no matter what their reading ability. Some groups felt confident enough to read themselves. The groups were encouraged and guided to discussion where the participants explored feelings, memories and issues within a safe environment.
The benefits have been improved confidence, social inclusion, general well-being and help to give people a sense of community and belonging. Opening up people's access to stories and poems has also helped them to increase their literacy levels.
Many of the group members have either never read for pleasure, disengaged with reading following illness or situations out of their control or lack the concentration to be able to get into and enjoy a book. By attending the groups they are given ideas and suggested readings to get them started. Feedback suggests participants enjoyed the discussions that have arisen from readings; one member said 'It's made a really positive difference to my week at a time of great change for me'. The leader of another group felt the sessions 'were a good vehicle to talk about some of the challenging experiences our service users have had and helped them feel less alone or isolated in those experiences.'
126 people participated in 71 Bookbinders Reading Group sessions in 2017. The groups read for a combined total of 16,840 minutes (over 280 hours).
Beneficiary story
'Dave' volunteers for Reading for Wellbeing. Dave writes poetry and was looking to study counselling as a way to alleviate some mental health issues he'd been having. He contacted Reading for Wellbeing via their Facebook page to see if he could do a placement that would help with his counselling studies. He decide that the time was not right to study but he still wanted to volunteer for the Reading Group. He really enjoys the group and is learning facilitating skills as part of his role, he also shares his own personal thoughts about the literature so his own mental wellbeing benefits.
He believes it has a positive impact on his life at a difficult time for him. He says: 'I have found volunteering with Reading for Wellbeing an amazing experience. The stories generate an always unexpected discussion, but one which is always informative, bold and fascinating. – managing to reference and build on the themes of the session brilliantly. I enjoy the stories both as a listener and a reader, and find the whole experience very rewarding. It is wonderful to be part of such a positive and creative force for change, and has helped me grow as much as anyone else (in the group). The atmosphere of trust allows people to fully connect and make the most from the experience.'