The Lawson Trust Million-Pound Endowment Match Challenge
To celebrate and encourage philanthropy in Kent, The Lawson Trust is launching an exciting new match funding partnership with Kent Community Foundation.
Building on the charitable legacy of Raymond and Blanche Lawson, the partnership aims to create a lasting bequest for Kent and help those in need in their local community while encouraging philanthropic giving.
The Lawson Trust Million Pound Match Challenge will add £1 for every £1 donated to an endowment fund at Kent Community Foundation. The funds will be invested in perpetuity and the income gained every year will be used for charitable grant making for the benefit of those in need in Kent.
Raymond Lawson was born at the turn of the 20th century and became a successful businessman with his wife Blanche at his side. Both prominent members of their local community, in later life they formed the Raymond and Blanche Lawson Charitable Trust, born out of a desire to help people in need in the local community. Today, the Lawson Trust remains an incredible legacy of the Lawson's and firmly rooted in Kent. By partnering with Kent Community Foundation, they hope to build on this legacy and incentivise other philanthropists to support those in need in Kent and Medway.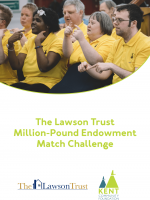 Lawson Match Funding leaflet
Uploaded April 2019
Download
Two weeks today. If you're new to KCF, this is an opportunity to come and meet the team face-to-face to talk about…
https://t.co/7u97hWtC7y
(2/2)Examples... visiting a charity that is an exemplar for local engagement, environmental sustainability, or work…
https://t.co/zXxEkWORSb